Institute Naming Honors Richard and Julia Wilke
(from the Winter 2003 Southwesterner)
When Richard and Julia Wilke began writing the DISCIPLE Bible study in the mid-1980s, Richard had a specific number in his mind. If 20,000 persons completed the study, he thought, it would be considered an overwhelming success.
He underestimated.
Since the release of the four-part series in 1987, DISCIPLE has been studied more than a million times, and has become a worldwide movement. It is translated into several languages and is in use in more than 30 denominations and almost 20 countries, including China and Russia.
In honor of the Wilkes, the Institute for Discipleship at Southwestern College was renamed the Richard and Julia Wilke Institute for Discipleship.
Family, friends, and top dignitaries from United Methodist publishing entities were on hand for the Sept. 13 event, including Robert and Beverly Dockhorn, whose financial support has been instrumental in the operation of the institute.
Participants at the dedication ceremony included Harriett Olson, vice president of publishing for the United Methodist Publishing House; Jerome Smith, director of communications of the SEJ Learning Network; Paul Ervin, executive vice president for the Foundation for Evangelism, and Nancy Kruh, author of The DISCIPLE Story. The Wilkes' grown children also participated—Steve Wilke (now vice president for enrollment management at Southwestern), Paul Wilke, Sarah Wilke, and Susan Wilke Fuquay.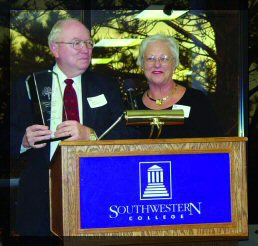 The guests paid tribute to the Wilkes as visionaries who have inspired Christians through Bible study on a level that leads to personal commitment. Harriett Olson related that the study was used in 5,000 United Methodist churches last year, and in 12,000 churches of all denominations. But this doesn't tell the whole story, Olson cautioned.
"Disciple is really not primarily about numbers," Olson said. "Numbers are part of how we describe it, it's important for us to keep remembering the scale of Disciple, how big it is, but it's not primarily about numbers. In fact, Disciple is about people. It's about people who are able to study the Bible in a new way, it's about people who are committing to study the Bible in ways they never thought possible for themselves, it's about people who are touched by God through the Bible in a new way and moved on to new things in their lives."
A Disciple participant from Georgia said "In the beginning, Disciple for me was a Bible study. Now it's something I'm striving to become," Olson related.
The Institute for Discipleship provides educational opportunities for Christian leaders (lay and clergy) for effective living and ministry, and expands Southwestern's mission with its specific focus on local church renewal.
Institute-supported activities have included building on outreach ministry of SC students supporting local church worship; special recruitment and financial support for rising church leaders from other countries; offering rallies for teachers of the DISCIPLE Bible study; coordinating internships in local churches for students at Southwestern College; and providing opportunities for local pastors to network or spend renewal time away from the local congregation.
On the horizon, the Institute plans to extend its impact through greater use of the internet and personal networking. Focused efforts are targeted at ministry preparation and continuing education, enhancing youth ministries, strengthening worship experiences, and nurturing students of DISCIPLE Bible Study.During 30 years of pastoral ministry the Wilkes served several United Methodist churches in Kansas, establishing a reputation for revitalizing and expanding congregations. Dick Wilke was elected bishop of the United Methodist Church and served in Arkansas until his retirement in 1996. He now is bishop in residence at Southwestern College. Both Dick and Julia remain active workshop leaders and speakers on issues of church renewal.
Photos: (First) Julia and Richard Wilke. (Second) Robert and Beverly Dockhorn accept thanks for their role in creating the Institute of Discipleship. 
BeADisciple.com, a Web site launched in November, now offers online resources for persons with interest in the DISCIPLE Bible study. Tools on the site include user forums and chat, up-to-date news, a Bible search function, and journals/blogs. BeADisciple.com online community is a ministry of the Richard and Julia Wilke Institute for Discipleship, the SEJ Office of Communications and Learning, and the Foundation for Evangelism.