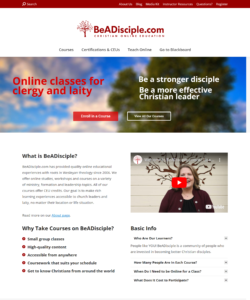 Since 2003, BeADisciple.com has provided quality online education with Wesleyan roots for lay and clergy Christian leaders.
The website offers group book studies, workshops, Bible studies and courses on a variety of ministry, formation, and leadership topics.  Cohorts of learners begin together and work through material together alongside an experienced instructor.
BeADisciple continues the values of DISCIPLE Bible Study by providing high-quality instruction with meaningful discussion in small groups.  By providing courses online, it makes rich learning experiences accessible to church leaders and laity, no matter their location or life situation.
The website is especially useful for those seeking a Certified Lay Minister (CLM) certification or contact hours/CEUs for Lay Servant Ministry.  Courses that meet requirements for both of these ministry areas are available at BeADisciple.
Conferences, authors, churches, and other ministries can also use BeADisciple as an online platform to create trainings and studies that exactly suit their needs.  Contact Lisa Buffum to learn more.
Go to the BeADisciple website
More Information
BeADisciple.com is a flagship ministry of the Institute for Discipleship.  Visit BeADisciple to learn more about the opportunities it provides or view the catalog of all courses offered.  You may also sign up for the BeADisciple newsletter to hear about upcoming courses each month.
BeADisciple.com has been probably been the most important continuing education experience I have had in the last decade. With the online format, I had the flexibility to log on in my own time zone in line with my personal schedule. The real-time class discussions were fast, fun, and invigorating. The content of the courses has been relevant and continues to inform my ministry."

– PAMELA NELSON-MUNSON, Pastor, Eugene, OR