Mohler-Seib to be Visiting Scholar at Southwestern College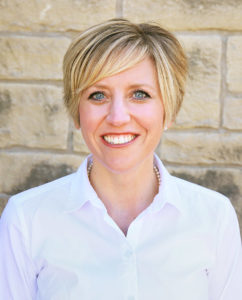 Rev. Wendy Mohler-Seib has been selected as the Southwestern College visiting scholar for the 2019-2020 academic year.
The Richard and Julia Wilke Institute for Discipleship at Southwestern College's visiting scholar program began in 2006, and supports a person nearing the completion of their Ph.D. work in the field of religion.
Mohler-Seib is the 10th visiting scholar in the program.
Mohler-Seib is currently pursuing her doctoral work in practical theology through Nazarene Theological College at the University of Manchester in Manchester, England. Her dissertation, titled "Hearing and Obeying God: Mentoring Teenagers in Practicing the Presence of God," explores spiritual disciplines and the faith formation of adolescents.
Mohler-Seib is a 2001 graduate of Southwestern College, where she received a B.A. in religion and philosophy. She attended Princeton Theological Seminary in Princeton, N.J., where she earned both a M.Div. and a M.A. in youth ministry in 2012.
After her return to Kansas, Mohler-Seib was ordained an elder in the Great Plains Conference of the United Methodist Church in 2014.
In 2017, Mohler-Seib was named a Harry Denman Fellow by the Foundation for Evangelism. As a Denman Fellow, Mohler-Seib participates as a junior fellow in the John Wesley Fellowship, a program of the Association for Theological Education (AFTE).
Since 1998, Mohler-Seib has served in varying ministry roles in Kansas, Florida, and New Jersey, first as a director of youth ministry and later in associate and senior pastoral positions. She currently serves as the director of faith formation for the Richard and Julia Wilke Institute for Discipleship at Southwestern College.  She will continue in this capacity while serving as visiting scholar at the college.
Steve Wilke, executive director of the Institute for Discipleship, says, "This additional role and title is appropriate as Wendy has begun her doctoral work, and will allow her to share her gifts more widely on campus."
As visiting scholar at the college, Mohler-Seib will participate as a member of the faculty and teach several courses in religion.
"I am humbled and honored to join the community of previous visiting scholars, whose lives and work continue to make significant contributions in theological education," says Mohler-Seib.
"I look forward to working alongside the faculty and staff at SC, and encouraging the educational pursuit of current and future Builders."
Mohler-Seib will begin as the visiting scholar at Southwestern College on Aug. 1.