Abigail Cutter Joins Institute for Discipleship as Visiting Scholar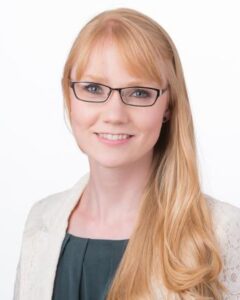 July 22, 2021 – Abigail Woolley Cutter has joined the Southwestern College faculty as a Visiting Scholar of the Institute for Discipleship.  
Cutter, who was awarded her Ph.D. in religious studies from Southern Methodist University in May, will spend the next two years at the Winfield, Kan., college. 
Each academic year, the Institute for Discipleship provides a $20,000 fellowship and housing to a new or near-completion PhD candidate in religion.  Selected from a pool of applicants, the Visiting Scholar teaches undergraduate courses, participates in campus ministry, assists with the Discipleship program and preaches/teaches with the Worship Outreach groups. 
A native of Wichita, Cutter earned her Master of Christian Studies degree at Regent College in Vancouver, British Columbia, and her undergraduate degree at Wheaton College.  
The new Visiting Scholar will teach courses in religious ethics as well as others chosen in consultation with colleagues in the Department of Philosophy and Religion. 
"My current research interests include political theology, Judaism and Christianity, and the Sabbath, so those will surely inspire some of my teaching," Cutter says. "But more generally, I enjoy helping students make personal connections to ideas that might seem remote or abstract. How does a particular theological concept affect the life of the Church? How does thinking more critically and with more complexity call us toward greater courage? How can our discoveries challenge us to become more deeply faithful?" 
The Visiting Scholar describes this position as valuable preparation for a future long-term scholarly position. She says she looks forward to becoming a more well-rounded scholar in three specific ways—developing new courses and adding to her teaching experience; doing more research and writing; and taking part in the life of the college community by serving on faculty committees and participating in Christian discipleship.  
In addition to her academic achievements, Cutter has been a graduate writing consultant at SMU, a Latin teacher, and an adjunct instructor at Friends University.  
She and her husband, Seth, are parents to a toddler and a newborn. 
For more information on the Visiting Scholar program visit the Institute for Discipleship website at institutefordiscipleship.org/visiting-scholars.  
The Richard and Julia Wilke Institute for Discipleship is based at Southwestern College, a United Methodist-affiliated college in Winfield, Kan.  It manages and supports a variety of educational programs — both online and in person — that increase discipleship and Christian leadership skills.