Sarah Wilke Joins Institute for Discipleship as Director of Global Relations
WINFIELD, KS — Sarah Wilke has been appointed director of global relations for the Richard and Julia Wilke Institute for Discipleship, effective Jan. 1.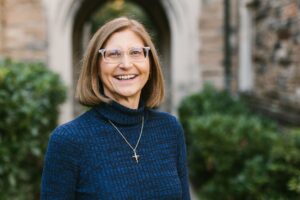 This newly created position will support the Institute's growing focus on international ministry, and Wilke's initial priority will be to help develop a smart-phone platform for small-group Christian education.
"We're thrilled that Sarah brings with her an impressive background in communications, community development, and international publishing," says Institute Executive Director Steve Wilke. "Her gifts and experiences will allow us to enhance our capacity for innovation and build on our network of international relationships."
Wilke, 59, most recently served as executive director of Scarritt Bennett Center, a non-profit education, retreat and conference center in Nashville, Tennessee, with an emphasis on justice ministry. Her new position, she says, will allow her to pursue a long-held passion for leveraging technology and creating new approaches to making disciples.
"I'm excited for this opportunity to become a part of an organization that's so dedicated to finding new ways to expand, strengthen, and educate the Christian community," says Wilke, who is the daughter of the Institute's founders and namesakes and the sister of its executive director. "I also feel an enormous amount of pride and gratitude that I will now be a part of the work that my parents dedicated their lives to."
During her five years at Scarritt Bennett, Wilke led the center through a series of capital improvements, helped launch its racial justice initiative, developed new partnerships in the Nashville community and beyond, and shepherded the center through the pandemic, ensuring a strong foundation for its future.
Before that, Wilke served for seven years as publisher and world editor of the Upper Room Ministries, a United Methodist global ministry headquartered in Nashville that produces the popular daily devotional. During her tenure, she expanded the Upper Room's digital and demographic reach, oversaw the opening of a regional office in Latin America, laid the groundwork for an Asia headquarters and launched digital collaborations with United Methodist Global Ministries, all while creating a strong financial base for growth.
Previously, she served for five years as the chief executive officer of UMR Communications, a Dallas-based ministry that published The United Methodist Reporter, an independent newspaper that reported denominational news. Before that, she served from 2000 to 2004 as the North Texas Annual Conference's urban strategist, an extended-cabinet-level position that allowed her to lead efforts in inner-city Dallas to form new congregations, revitalize existing churches and spearhead community-development projects.
Wilke began her career in 1986 as the executive director of Wesley-Rankin Community Center, a century-old mission of the United Methodist Women. During her 14 years of service to a predominantly Hispanic community in inner-city Dallas, she spearheaded a $650,000 capital campaign, developed programming for every generation, and served a key role in bringing new housing and a city park to the neighborhood. At her departure in 2000, the Wesley-Rankin youth and board of directors named the center's new satellite structure the Sarah Wilke Youth Center. Also in 2000, Wilke was named Community-Based Ministries Administrator of the Year by the United Methodist Association.
In 1997, Wilke co-founded Project Transformation, a college internship program in Dallas that provides free after-school tutoring and a summer day camp for children in low-income families. The initiative – which initially drew dozens of churches and several United Methodist institutions into collaboration – has since grown into a national organization that serves thousands of children at a host of inner-city and suburban sites around the country.
In 2016, Wilke served as the chair of the World Methodist Conference, in Houston. For her work, she received the Order of Jerusalem, an award created by the World Methodist Council to recognize "individuals whose service to the global Methodist/Wesleyan family has been marked with honor and distinction." Wilke also is a member of the Executive Board of Southern Methodist University's Perkins School of Theology.
An accomplished public speaker, Wilke has regularly addressed groups over the years on such topics as church communication, community collaboration, youth, poverty and violence; in 1998, she spoke before 10,000 United Methodist Women at their quadrennial assembly in Orlando, Florida.
Wilke began her career as a U.S. Peace Corps volunteer, helping Costa Rican women develop small cooperative businesses. While there she became fluent in Spanish.
In 2004, she earned an executive MBA at Cox School of Business, Southern Methodist University. She earned a bachelor's degree in political science from the University of Kansas in 1984.