Lori Richey Named Director of Online Learning at Institute for Discipleship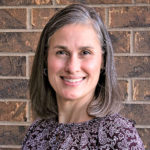 June 6, 2023 (Winfield, Kansas) — Lori Richey has been named director of online education for the Institute for Discipleship, and will oversee all offerings at BeADisciple.com beginning July 1. BeADisciple.com is part of the Institute for Discipleship at Southwestern College and has offered quality online educational experiences with roots in Wesleyan theology since 2006. 
Lisa Buffum, who had been director of BeADisciple.com for 17 years, has taken a position as pastor of a local church.  
Richey has been on staff at the Institute for Discipleship since 2018, most recently as program director for IFD certifications and director of the Summit Youth Academy. She was director of youth ministry at Calvary United Methodist Church in Wichita from 2007 to 2017, and received her certification in youth ministry from Perkins Theological Seminary at Southern Methodist University. 
As director of BeADisciple.com Richey will oversee a program that has grown to become one of the nation's most respected sources of online Christian education. Established in 2006, BeADisciple.com has offered more than 2,300 online courses, providing continuing education and peer learning for more than 24,000 participants. Twelve certification programs in specialized ministry are available, with all courses offered online and most asynchronous. 
"Since beginning my work with the Institute for Discipleship, I've had one foot in the world of youth ministry and the other in the certifications offered through BeADisciple," Richey says. "With this new role, I'm thrilled to have the opportunity to focus solely on the wonderful courses offered through BeADisciple and will continually seek new ways to connect future learners with the quality content we offer." 
A native Texan, Richey has lived in Wichita for 27 years. She and her husband, Steve, have three adult children. 
BeADisciple.com is a program of the Richard and Julia Wilke Institute for Discipleship, which is based at Southwestern College. It manages or supports a variety of educational programs — both online and on the ground at the college — that increase discipleship and Christian leadership skills.    
More information on BeADisicple.com is at beadisciple.com, and Institute for Discipleship information is at Institute for Discipleship.